Every Model Is Supported
ZX, LT, EXP, Zap, Zap2 — they're all here! Have a totally customized Zen? No problem! Simply choose the base body style and then drag the triggers around to match your layout. ZenEdit's MIDI supports makes it a breeze to match the on-screen triggers to your physical ones by highlighting each trigger as you tap them.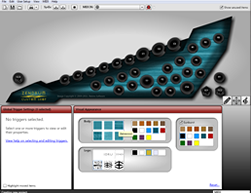 Customize Appearance
The Ford Model T may have only been available in black, but Zendrums come in every color under the rainbow. Customize the appearance of your on-screen Zendrum by choosing the style of wood and color of finish.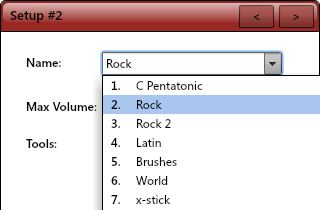 Name Your Setups
Can't remember which numbered setup you were using for brushes? No problem, just give that setup a descriptive name and always be able to find it quickly.
Each setup plus each trigger and CC control has a comments feature which can be used for keeping track of details. You can also change the color of individual triggers to help visualize how you are grouping them.
We Speak Your Language

Every trigger and every CC control can show a combination of MIDI note number, note name or GM instrument. You can also select from one of the many module mappings provided with ZenEdit. No more thumbing through manuals trying to find out what note number is used for a pedal splash or what number is for middle C or which CC number controls panning. Now you can simply select all of these from dropdown menus.
ZenEdit also includes a module editor which allows you to custom tailor the note names to your personal tastes.
Give the (melodic) Drummer Some

Setting up melodic notes and scales on a Zendrum using numeric MIDI values can be quite a chore! ZenEdit allows you to select notes for triggers using a familiar 88-key piano roll. You can also transpose groups of triggers up or down. Each trigger displays (in plain English) the name of the note assigned to it, without you having to memorize or lookup numeric MIDI note values.
Take Control of Crossfades


Your Zendrum's crossfade feature is fantastic just so long as the 4 notes you want to trigger are sequential which for a lot of modules just isn't an option. ZenEdit unlocks the true power of crossfade by allowing you to pick exactly which notes are used!
ZenEdit also allows you to completely control where the crossfade switches occur!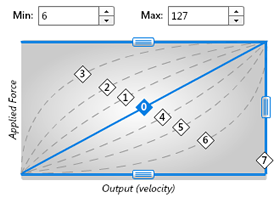 Dial-in Sensitivity
Why settle for one global response curve setting when ZenEdit makes it so easy to set a different curve for each trigger? Take total control of your instrument by calibrating each pad to respond to your own individual playing style!
What's more is you'll never need to dig around in your manual to figure out what those numeric response values mean — now you can just pick the curve you want visually.
You can also adjust the noise floor and maximum velocity for each trigger to truly fine tune your instrument!
Play Well with Others
ZenEdit's innovative file system makes it easy to share your setups with friends. Each .zen file you create contains all of your edits, annotations, settings and SysEx. Anyone you share the file with can easily review how you have your triggers laid out, read any comments you've assigned to triggers or setups and can then send the SysEx to their own Zendrum to try out for themselves.
---
More features on the way!
ZenEdit continues to grow and evolve. If you have any ideas for features you'd like to see, we'd love to hear about them!